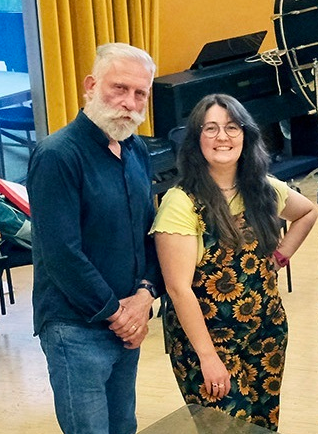 Tansy AGNEW, Musical director
Tansy's early life was surrounded by music. She was inspired to learn to play the violin by her father and started lessons when she was 5. After finishing school, Tansy studied for a BMus at Canterbury Christ Church University.  She then gained a Masters Degree from Trinity Laban Conservatoire of Music and Dance. Tansy is now a community music specialist and works with a wide variety of people from babies to adults, running workshops, orchestras and choirs. Tansy has been the Musical Director of One Voice Choir Watford since September 2022.
Ken Harratt, Piano Accompanist
Ken was taught piano from age 8, and his first teacher was a concert pianist. By the age of 12, Ken was improvising Mozart and other classical composers. Ken studied music at Brunel, London, then went on to study jazz piano. Ken runs his own music quintet. He works as a freelance musician and teaches piano. Ken has been the piano accompanist to The One Voice Watford Community Choir since Autumn 2013, bringing his own inimitable and relaxed style to the choir.